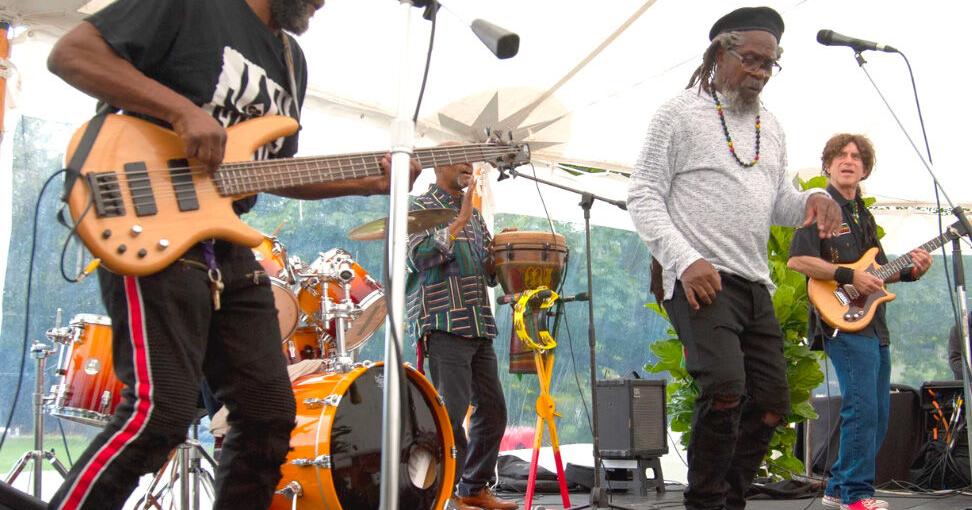 Peabody Square Site
In front of Brodie's Pub
11am: Warsawian Orchestra
Get ready to play the polka with traditional Polish music from the Warsawian Orchestra. Buddy Walker started his band over 70 years ago and his band is still alive under the direction of Tony Malionek.
11:30 am: Tony Giblin & Eamon Coyne
Tony Giblin is from Galway and Eamon Coyne is from Milltown Mulvay, County Clare. Giblin moved to the US in 1983 with his two brothers who play music in Boston and New York and have lived here ever since. Coyne is a multiple All-Ireland fiddle he champion.
Noon: JAH Spirit
Jah Spirit is a six-man reggae band with an unforgettable stage show. They were the first reggae band to be placed on the New England Arts Foundation's Recommended Performers list.
1:00 PM: Lenny and Renegades
Renee and the Renegades is a country band that plays originals and covers. Lead her singer Renee Leavitt she started the band in 2018.
2pm: Ceremony
Special Performance by the PCOA Senior Women's Drill Team
2:30pm: Sayat Nova Dance Company
Armenian folk dancer
3pm: Passion East Productions
"The Kubota PowerJazz Unit – Multi Cultural Fusion Extravaganza" is back! This group is more than just a band, it's an experience. Featuring songs from around the world. We play jazz, fusion, pop, classical and world music.
4pm: Sugar Kings
Sugar Kings is an original Boston-area bilingual band specializing in authentic Afro-Cuban son/salsa/merengue, covering a wide variety of artists and styles from around the world.
main street site
In front of Galonero Restaurant
11am: Brian Mays Band
The Brian Mays Band consists of former members of RTZ, Peter Wolf's Houseparty 5 and Ernie and the Automatics. They have toured and recorded with acts such as U2, Aerosmith, BB King and Deep Purple.
Noon: Camellia Latin Classical Quartet
Get ready to dance to different styles of Latin oldies like Cuban Son, Merengue, Bachata, Cumbia and more. The band members are mostly Latinos from Puerto Rico and the Dominican Republic.
1pm: MERY EME & THE LATIN ROOTS BAND
Based in Lynn, Dominican singer Mary Emme continues to shine with her live performances. Merengue, salda, bachata, chacha, cumbia, Cuban music and more.
2pm: Grupo Fantasia
Angel Wagner, a master percussionist from the Dominican Republic, founded Grupo Fantasia in 1993. Grupo specializes in Latin music performed on traditional instruments. It features salsa, meringue and bachata.
3pm: DIS & DAT
Dis & Dat blends Trinidadian and African rhythms with roots reggae and steel drums. They are a Caribbean reggae band led by Steel Drums led by Systady and his four-time Grammy-nominated reggae drummer Lango Tan.
4 p.m.: Annie Brobst
Annie Brobst is the winner of this year's New England Music Awards for Act of the Year, Country Act of the Year and Song of the Year. Her latest album 'Where We Holler' has scored her No. 2 on her iTunes country album chart in the US, just below Carrie's Underwood and just above Chris Stapleton.
.