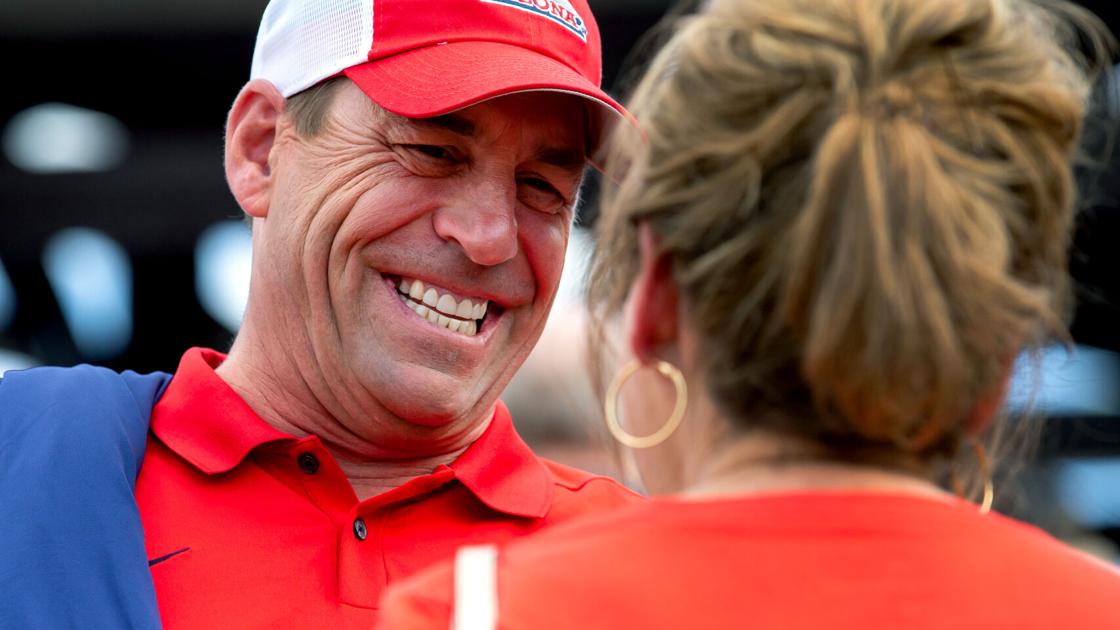 Dave Heeke and Cedric Dempsey sat together in the athletic director's suite during Arizona's victory over San Diego State last week.
Alumni of Albion College, the alma mater of Arizona's first athletic director, Pop McKale, saw UA's athletic department at its lowest level.
Dempsey became Arizona's AD in 1983 when the Wildcats basketball team went 4-24, the football program was on NCAA probation, and there were no dice in school.
Ten years later, Dempsey, widely viewed as the top AD in the nation, was hired as the NCAA's executive director.
If possible, Heeke is even worse. His football his program from the second half of 2019 until the end of 2021 he has won 1 and lost 23. The pandemic devastated the department's finances, creating a deficit of $45 million. His basketball program has been under scrutiny for his five years, a period of reputation-smashing that led FBI agents to knock on former coach Sean Miller's door.
"It wears on all of us," says Heeke. "It's been a long, hard road."
Many other ADs would have been overwhelmed by the chaos Heeke inherited upon arriving on campus in April 2017, but like Dempsey in the 1980s, he was a problem solver.
As he and 90-year-old Dempsey celebrated Arizona's big win at Snapdragon Stadium, Heek explained the feeling in a text message:
"It felt good. I love the atmosphere. Heads down. Hard work. Caring about people. Good things happen."
We're not suggesting that Heeke embark on a Dempsey-type trajectory and join the ranks of collegiate athletics' elite ADs. 12 most complete ADs.
He's on the positivity train, as are Jed Fish and Tommy Lloyd, two illustrious recruits who helped restore good vibes to Tucson's sports community.
A few days ago, Heeke started a half-hour conversation about becoming a grandfather for the first time, not about the shock and awe of USC and UCLA abandoning Pac-12, or about the painful anxieties of college athletics. I was.
Ryan and Merisa Heeke recently became parents to 4-month-old Van.
"I don't think I'm 38 anymore," Heeke said with a laugh.
But five difficult years in Arizona may seem like a 38-year-old.
"The last five years have not been easy, but the next five may see even greater changes," he says. I am not saying that everything is bad. Hopefully we can stabilize things and keep the guiding principles aligned. We have lost a lot of control over our external stakeholders. This money making took a lot out of the athletic director's hands. I don't think it's healthy. "
This is not for beginners. It became clear during crisis after crisis in the UA Athletic division that Heeke was prepared for anything, for better or worse.
His early years in college athletics were anything but steady. During his first eight years at the University of Oregon, Heek worked under his four athletic directors: Bill Burn, Rich Brooks, Dan Williams, and Bill Moose. That was before Nike money changed the future of UO's sports division, effectively making it a model for the next 25 years.
The college student model is 1990s. Money rules today.
"Okay," says Heeke. I think we lost touch with the soul of college athletics.
"In a global sense, collegiate athletics has become more business-oriented, it has become a professional model, it has become a business concept. It's something I'm working on."
Five or ten years from now, Arizona may no longer be part of Power Five football today. It is increasingly likely that the nation's top 25 or 30 football programs will independently play an "amateur" version of the NFL. Heeke frankly says he doesn't know where Arizona will be when "the music stops."
"This used to be a profession with many friendships.. but it really fell apart. It's a real shame."
Arizona finished 35th in last year's Rearfield Athletic Directors Cup standings, strictly based on wins and losses. That's a long way from UA's consistent top 10 finish from 1995 to 2010, the golden age of Arizona sports, but it's still in the top district for college athletics.
In the overall sports rankings, the Wildcats are ahead of football-blessed Clemson, Michigan, Iowa, Pennsylvania and Baylor, and just a few percentage points behind Auburn, Oregon, Wisconsin and Texas A&M in the top 25.
In fact, Arizona is uniquely positioned against every school in the Power Five in nearly every sport. This isn't bad after four years, the worst since the 1950s, when the Wildcats went 10-31, the lowest average attendance at an Arizona stadium since 1972.
Indeed, Heake has a lot to blame for hiring former soccer coach Kevin Sumlin. You can't avoid it. However, across the Pac-12, almost all schools have failed to recruit coaches over the past decade. Washington State hired Jimmy Lake, Washington State blew it to Nick Rolovich, USC failed to recruit multiple times, and Oregon State and Oregon State failed to recruit Gary Andersen and Mark Helfrich respectively.
This time, Heeke seems to have found the right person to restore UA football's reputation: Fisch.
Fish deserves credit for being one of the roster rebuilds and cultural facelifts in modern Pac-12 football history. His football IQ is exceptional, and his salesmanship and work ethic rival any Arizona coach of the last 50 years. Plus, he's brought his fun back to his UA football.
Yes, Fish is 2-11 overall, but the foundation is being laid.
Heeke now has more time to dedicate more time to the overwhelming transformation of collegiate athletics, from names, images and likenesses to transfer portals, fundraising, rebuilding a once-formidable swim program, and welfare of more than 500 athletes. .
"We walk the halls with hundreds of student-athletes every day," he says. "We're trying to do the right thing for them, but it's not talked about enough.
"We must not lose our core value of what this is, the soul."
When the UA Softball team qualified for the Women's College World Series last spring, Heeke watched all the softball players and coaches jump into the hotel pool at an impromptu celebration.
He took off his shoes, threw off his hat, ran 10 yards, and then jumped into the water.
He was smiling as he appeared in the air, an impressive snapshot of his first five years in Arizona.
Contact sports columnist Greg Hansen at 520-573-4362 or ghansen@tucson.com. Twitter: @ghansen711