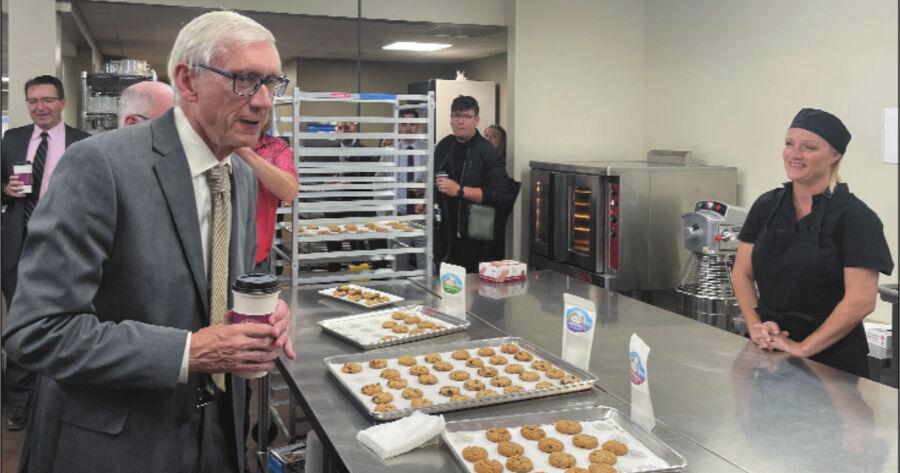 WAKESHA – Gov. Tony Evers visited Chef Pam's Kitchen in downtown Waukesha on Tuesday morning to learn about Main Street businesses and the craftsmen who make use of their commercial kitchens.
"This is great. It's really great to showcase downtown," he said.
Chef Pam Dennis is a former Navy nurse who has loved cooking since he was a child. Originally at 290 West Main Street he has been there for two and a half years and is now home to Mama He Duckies His Desserts, but Dennis announced that he will be moving to a new location at 280 West Main Street on June 14, 2021. moved to
In the old space, only 12 craftsmen could fit in the kitchen. With increasing demand from chefs and artisans for commercial kitchens, Dennis decided to rent out his new space, which had been vacant for 13 years.
Dennis currently has four commercial kitchens that can be rented by chefs on a schedule. She hosts her Chef Her Assists classes and on Tuesdays, Thursdays and Saturdays her group of 24 can join and enjoy cooking and dining with her. In between her classes, Denise hosts private events for all kinds of occasions, giving her groups the option to cook meals with her or have her serve them.
"In open classes, there are 24 people with me, and most people come in twos," Denise said. "But what's really fun is that by the end of the night you're sitting here enjoying what they've made. They're starting to get to know each other."
Denise demanded that the whole group come back together and cook another meal.
"Meal and fellowship, I think that was my goal in this business," said Dennis.
Grant allows extension
With support from the Wisconsin Economic Development Corporation's WI Tomorrow Main Street Bounceback Grant program, Dennis was able to fund the new space and accommodate more artisans.
The grant program provides new businesses with grants to help expand or start previously vacant commercial spaces for leasing, mortgages, and other business-related expenses.
The grant allowed Dennis to expand his kitchen space and hire 24 craftsmen, up from eight at the previous location. She said the grant helped not only her own business, but also the businesses of her 24 artisans, whom she accepted.
"It was incredible to be able to do that," said Dennis. "Without that help, I don't know if we could have made it."
Dennis also used the grant to fill new space and brought two hoods into the kitchen. According to Dennis, one alone costs him $28,000.
Evers visited three craftsmen in the kitchen this morning to ask about their own businesses and more space. We provide them.
"It was exciting to meet him and showcase him." It's our space," said Denise.
A to Z Dinners is one business that utilizes the kitchen. Run by Andrew Koser and Lauren D'Amico, the duo prepares and delivers fully cooked meals to homes in Waukesha, Milwaukee and Ozaukee counties.
"It's just amazing" Coser said of the building. "This space is great. We're lucky."
Evers also met Bill and Sarah Coleman, who own Prairie Junction Farms, which makes bourbon toffee and aronia syrup. The small farm-turned-business has been running for his one-and-a-half years, and the two spend two to three days a week in her chef's kitchen.
Vegan baker's man ran by Amy Gazdecki is a vegan, gluten-free cookie business. Gazdeck spends his time as a craftsman in Denise's kitchen.
As the holiday season approaches, Dennis says there are events scheduled, along with holiday party bookings. For more information on Chef Pam's Kitchen, visit https://www.Chefpamskitchen.com/.
---
Get all the latest Waukesha County news with a subscription. click here
---
.