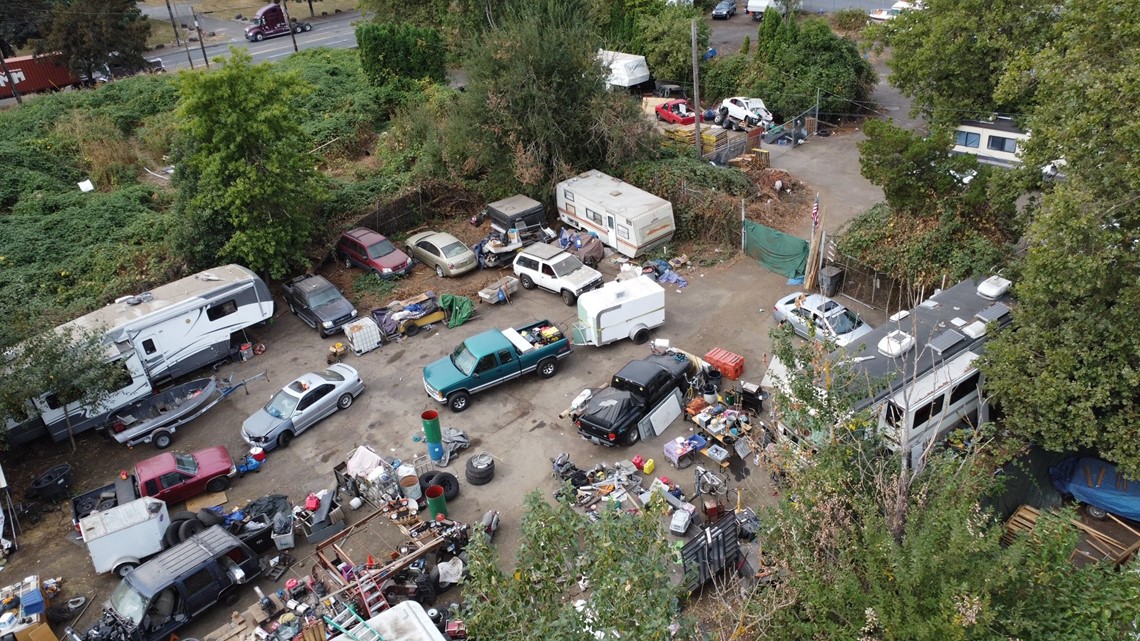 The Mitigation Team has evaluated this property seven times in the last 60 days. Each time, it significantly exceeds the matrix required for deletion.
PORTLAND, Oregon — Off North Columbia Boulevard is an RV warehouse that has been owned by the White family since the 1970s turned into a junkyard. Family members say it is now occupied by a nearby homeless camp.
Walking through the yard Wednesday, Jeffrey White pointed out various RVs that have been broken into within the past week.
"This is one of our customers. His storage was torn out and his locks were broken."
White said homeless people from a large encampment next door keep breaking into them and stealing.
When KGW first went to camp two months ago, it was at the top of the city's elimination list, and it's still there. Nearby business owners say the problem is only getting worse.
RELATED: 'I'm taking over': North Portland homeless encampment charges rent for homeless people to stay
"It costs a lot of money," White said. "She has 10 less space, which is equivalent to $1,000 a month."
All of those empty spaces were occupied by customers who moved elsewhere for camping, White said.
"In addition to losing money, we're losing sleep," said Tamera White, who works at Curt's RV and Storage.
They called the police and reported this to the city, but nothing changed.
"Mayor, he wants people to work with him…what more can we do?" White said. "We're talking to the police department about all these shootings we're hearing about, all the thefts going on. My wife emails every mayor, mayor and she's not responding there is no."
The city told KGW that the impact reduction team had evaluated the facility seven times in the past 60 days and that it is due for removal soon. rice field.
RELATED: 'Work with me': Mayor Ted Wheeler pleads with Portlanders not to give up on city
The camp now has high fences, tarps and no trespassing signs put in place after the police came to the camp.
"Police were looking for stolen goods here," said Grace, who runs the camp under the name Grace's Oasis. One of his signs on the fence reads "No seats available". According to Grace, 15 people live there now and it's too crowded.
"This is my sanctuary," she said. "I wanted other people to be like that, too.
She said no one living there had a job and the majority were living on social security.
Portland police told KGW they were at the camp Friday night to report a shooting, but officers found no evidence of a shooting. .
Grace said she wouldn't leave once the city cleared the camp.
"Let's chain them to that oak tree over there. They have to literally physically take me away and get me out of here."
"I don't know what more I can do," said White. "City Hall may tell us what more we should do."
RELATED: Neighbors unhappy with NE Portland homeless camp they moved to two years ago