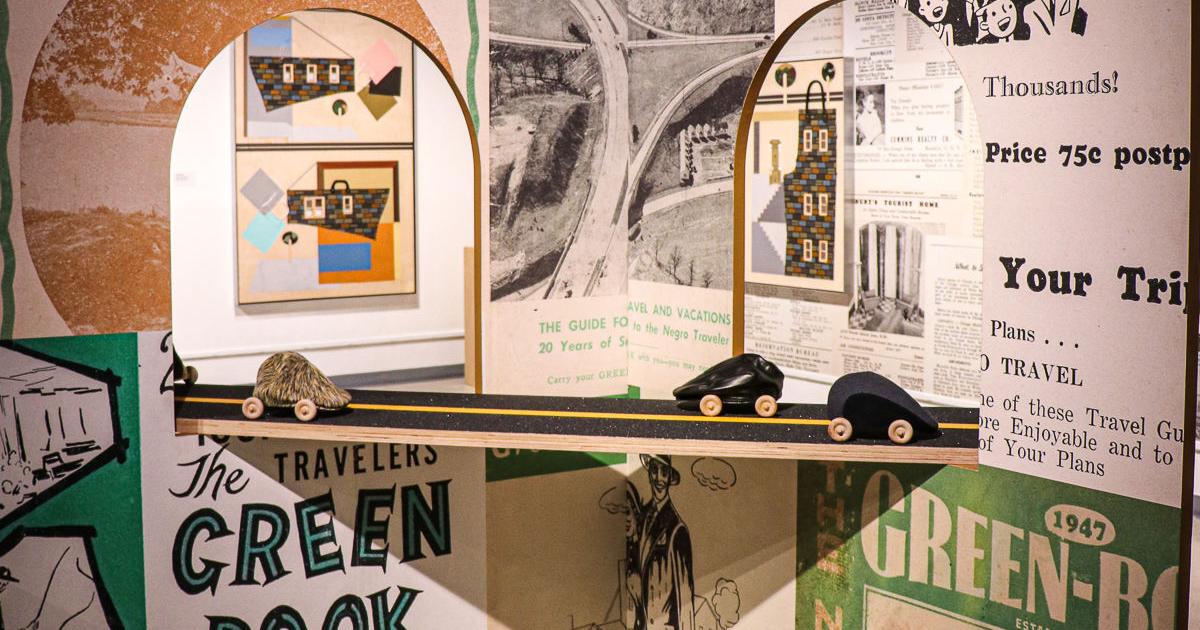 Since this spring, art lovers and historians have visited the African American Museum (AAMP) in Philadelphia to see Derrick Adams' latest work, Sanctuary. Inspired by "The Negro Motorist Green Book" published by Victor Hugo Green, the exhibition reveals the experiences of black travelers in search of safe destinations in the mid-20th century. Adams' work is currently resident at AAMP and will depart on August 28th.
"I went to see a museum and design exhibition in New York, and I was very impressed.
"There are so many important layers to the exhibition. Adams was heavily influenced by the 'Black Automobileist Green Book' created by Victor Hugo Greene and his wife Alma. [who] was also very helpful. He started his Green Book in 1936 to guide black drivers to safe places and safe spaces as they traveled the roads. This was very important in his mid-twentieth century when travel was part of the American dream. And this is what the black community did, it was a very normal part of black life. Leisure time was part of black life. And I think Derrick Adams was really interested in thinking about that through his work," Duckett said.
Adams' exhibit examines black leisure and travel as revolutionary modes of resistance. There is a general consensus that art is often born out of conflict and suffering. While this may be true of his other works as well, Adams emphasizes the historical necessity of "The Negro Motorist Green Book," not only the bliss that comes from recreation, but also the rejuvenation of pleasure and trauma. It balances duality. Or, as Duckett said, mundane.
"It is a routine part of everyday life and for Black people it can be a form of resistance to being, living, traveling and enjoying each other. Do this regardless of Black trauma. The exhibition touches on so many points: Derrick Adams wants his art to reflect the entire Black experience. I think I was very conscious, because if you just focus on the trauma, there's a lot you miss," Duckett explains.
Adams' exhibit invites us to rethink black travel and leisure, keeping in mind its relevance to the Green Book, as his work challenges the narrative of how black people existed in the mid-20th century. It's an immersive experience that invites the audience in. Adams offers visitors an opportunity to better understand the Black experience through appreciation and joy.
"Derrick Adams was ahead of his time and thought about themes of rest, leisure and extreme pleasure. These are things we all need, especially after the last two years. I think [his] The work makes a conscious decision to bring the Black community together to experience this work in Philadelphia. And the work is so revolutionary. Adams' practice of radical black joy as a tool for resistance and survival is very powerful and I think everyone can really relate to it," Duckett said.
For more information on Derrick Adams' latest exhibition, Sanctuary, and how to see it before it opens on August 28th, visit aampmuseum.org.