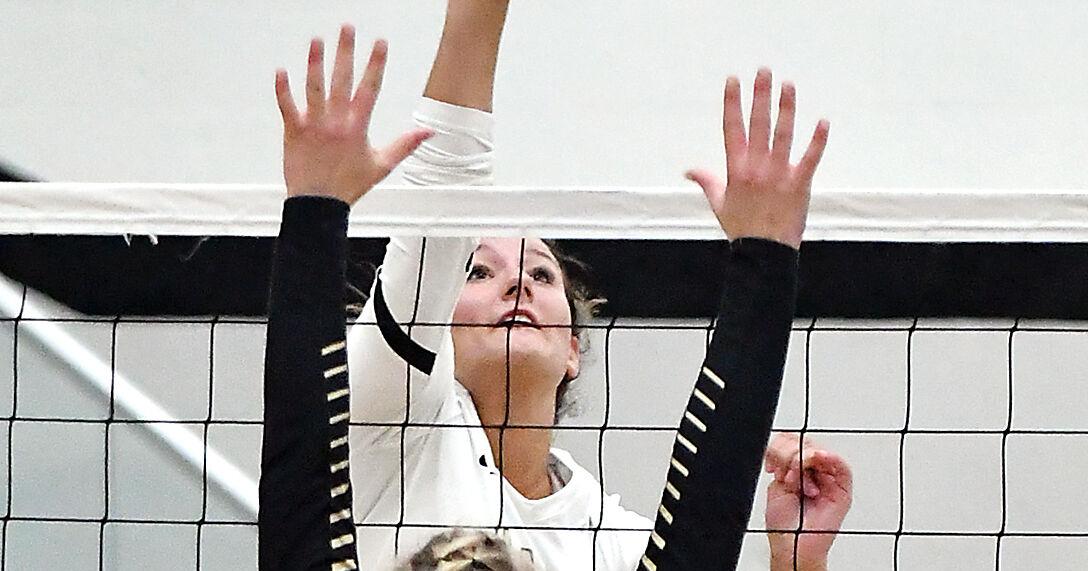 DALEVILLE — With no seniors on this year's roster, the Lapel volleyball team had to learn how to win in a tough environment and who would be their go-to player when the game loomed.
The Bulldogs overcame adversity to learn their first lesson on Monday night.
Lauren Paska had seven of a match-high 21 kills in the fifth set, while the Bulldogs dodged match point bullets to go 23-25, 25-21, 25-17, 10-25, They escaped Daleville with a 19-17 win. Knock the Broncos out of the undefeated ranks.
"They come to me a lot and I feel like they can count on me," Pasca said. I didn't give up."
The Bulldogs improved to 5-2, while Daleville slipped to 3-1 in their young season.
Lapel's coach Hilary Eppert praised her team's perseverance and the defending section champions, the Broncos, after an exhausting back-and-forth match that changed momentum multiple times in each set.
"I have to figure out how to not get sluggish, and if I can do that, I'll be in good shape," Epert said. "It was a great game in honor of Daleville. They're obviously a tough team and they have all the props. I thought our girls fought.
To start the match, the teams traded sets, with one team taking a large early lead and having to hang on to close it out.
Back-to-back aces from Lauren Finley gave Daleville an early 16-7 lead, but a 5-point serve from lapel libero Sophie Jackley cut the Broncos' lead to 20-15. Tatum Harper hit one of Rapel's three aces to give him a 23-22 lead, but Mallory closed out the first set for the Broncos with a kill from Engbrecht.
The second set was similar, but this time the Bulldogs dominated early. His 3-hitting error for the Broncos allowed Lapel to take his 5–1 lead, and Paska's block pushed the advantage to his 8–2. She added her 6-point serve her run, which included an ace, and her second block that gave Lapel the biggest advantage at 22-12. But an eight-point service run from Daleville freshman Emi Kuklowitz gave hope as the Broncos pulled away 23–21.
Those hopes were dashed by kills from Paska and Elizabeth Stern, ending the match 1-1.
The Bulldogs dominated the third set and seemed to have the game. Marin Landis stole the ball for his 9-8 lead and contributed his six straight points, including two aces, to give the Bulldogs a 15-8 lead, before Trishell his Johnson's block made it to the top. I finished the run. Another Harper ace gave Lapel his 23-15 advantage and took a 2-1 lead.
"I played when I needed to play," Epert said. "In the second and third sets, I thought the defense really stepped up, so I was happy to see that."
But the Broncos didn't walk away quietly. Early on he was 5-0 and Cukrowicz's serve run gave Daleville a 9-4 advantage as he never looked back in the fourth set. The Broncos used their energetic defense to unleash their offense. A backrow kill by Abby Reed followed by two finishes by Ava Papai made Daleville's lead 16–5. Stern's kill ended a service run for a 7-0 lead, but that didn't stop Daleville from forcing a fifth and deciding set.
"We were acting like we were beaten, but we weren't done yet," Paska said. "I definitely feel like we pushed to the end and didn't give up."
All of which set the stage for drama on the final set.
A pair of Bulldog errors and an ace from Emily Finley gave the Broncos an early 3-1 advantage.
She scored six of her next seven lapel points on kills as the Bulldogs took an 8-4 lead. It was a nearly five-point lead, but Taylor Muros was called up for a net violation and her kill was swept for a lapel.
"We try to get the ball moving as much as we can," said Epert. "But when the rubber hits the track and you need points, yeah,[Pasca's]is our go-to."
A Cukrowicz kill and another rappel error pulled the Broncos within 8-7. Three Daleville errors and a Stern kill put Lapel within winning range at 13–10 when Broncos coach Valorie Wells called a timeout.
The break worked when Daleville scored the next four points, with two kills for Johnson, one for Engbrecht, and Rapel Error for match points at 14–13.
But the Bulldogs took a 15-14 lead on Mroz's kill and Landis' third ace. An exchange of errors gave Lapel a 16-15 lead before a Johnson block, another kill from Paska and a kill from Daleville's Emma Boss tied the match at 17-17.
Stern's seventh kill gave Rapel his fourth and final match point, and an error by the Broncos gave the Bulldogs the win.
"It's always fun to play here and it's fun to play with Valorie and her team," Epert said. "She's a prop to her."
"After the second set I was a little bit down, but I thought we got the energy back really well," Wells said. is everything I wanted her to do and she did it very well.
Landis had eight kills, Muros five, and setter Curly Jannings gave the Bulldogs 35 assists. Reed led the Broncos with 12 kills and added three aces. Meanwhile, Johnson finished with 10 kills and he had two blocks, while Engbrecht had five kills and he had two aces. Emily Finley scored 30 assists for Daleville.
The Broncos will continue a tough stretch of home matches as they host Hagerstown on Tuesday and Delta on Wednesday.
"I think the lapel is the best defense we've ever seen, so it really tested us," she said. They didn't and it was tough. They put that kind of pressure on us and it's going to test our mental toughness going forward."
The Bulldogs are off until Saturday when they compete at the Cowan Invitational.
.