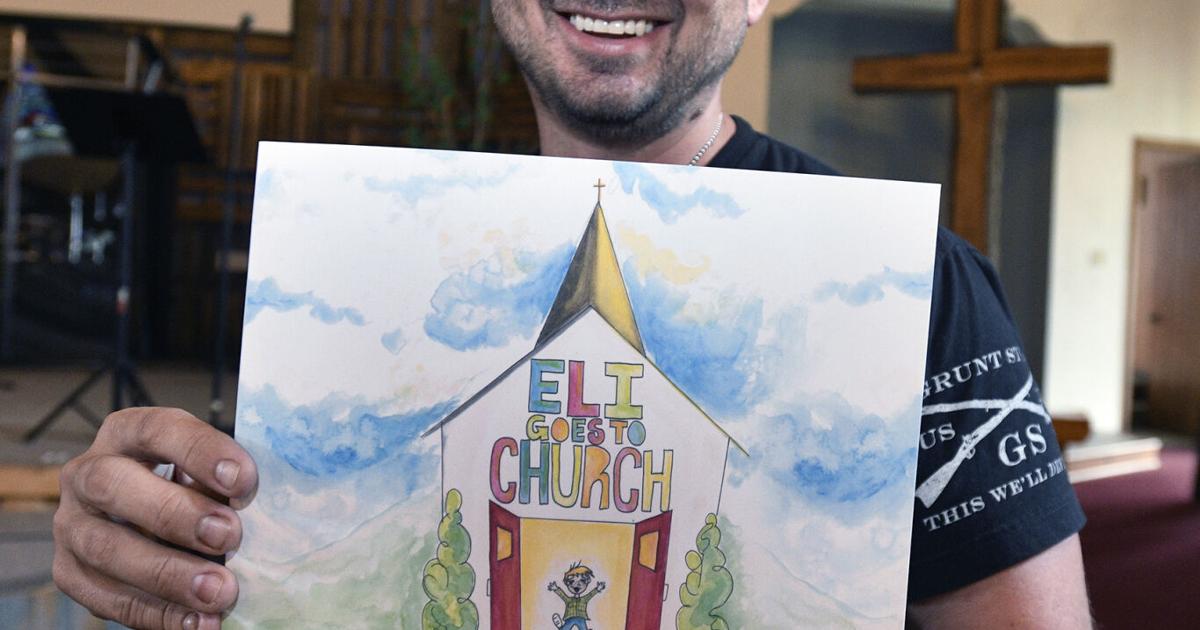 Johnstown, Pennsylvania – Josh Knipple wants to see a church full of children again.
And he hopes his new book, Eli Goes To Church, will help young people better understand the Church, faith, and living in the image of Jesus through the eyes of a child.
Knipple, pastor and outreach coordinator for Crucified Ministries, said the book took five years to create. The title character is named after his son Eli.
"I wrote this song when Eli was a year old, and my wife[Lindsay]and I were praying for him to be raised in the church and what it would be like," says Rich, 39. A resident of Rand Township said,
"We know kids ask all sorts of questions, so I thought the best way to reach out to my kids was to write stories for them."
"Faith Like a Child"
The story follows Eli as he wakes up on Sunday morning and his parents tell him it's church time.
"He started asking why they were going to church," Knipple said.
"At church, he asks people who they are and why they sing and why they pray. are answering."
At the end of the church, the pastor tells the congregation to go and be the light, and Eli wonders what that means.
"Then we cut to where Eli is at school the next day and show how Eli treats other people," Knipple said.
"At the end of the day Eli comes home and ends with excitement because he has become a light. Mom and Dad say it's so easy – faith like a child."
"Focus on the story"
However, it wasn't Knipple's original intention to see the story made into a book.
"I was going to write a story for Eli and share it with him," he said.
It wasn't until he showed the story to his friend, illustrator Thyra Jacobs, that the idea came to fruition.
"She started putting pictures in it. When we started doing it, it started to become real," he said.
"Tira also grew up in church. Her dad is a pastor and my dad is a pastor too, so she thinks from both the notion that we were raised in church and what it looks like to us. We used visual ideas. We wanted to have illustrations that kids could react to and focus on the story.
Richland Township resident Jacobs says it was a lengthy process to create the illustrations.
"There was a lot of messaging back and forth of ideas, doing a lot of sketches and discussing what style we wanted for the book," she said.
"I do mostly pen and watercolor illustrations, which Josh loved."
Jacobs said she took inspiration from Eli and people she knew at church for her painting.
"I based the pastor on my father's appearance and dress, and on one of the pages I drew an elderly church woman. It's an image," Jacobs said.
"It was a lot of self-reflection about my own childhood church experiences, and I actually incorporated that into the illustrations."
Jacobs said he loves helping with books.
"There was a kind of balance between the professional stress of wanting to make the best illustrations and the highest quality product I could do, but it was also really nostalgic for me," she said. "It's also the first book I've illustrated, so it was also a fulfillment of my childhood dream of becoming a children's book illustrator."
"It blew me away"
This book for children ages 4 to 11 was published by Christian Faith Publishing and released in May.
Available in bookstores and online at Amazon, the Apple iTunes store, and Barnes and Noble.
Knipple says the feedback has been positive.
"It blew me away," he said.
"I had a man reach out and after reading it said that his grandchildren wanted to go to church with him for the first time in a long time. Told me it was open, which I didn't expect because there are churches in South Carolina who want to order 50 copies, and people across the country are getting them."
Along with 6-year-old Eli, Knipple is the father of 4-year-old Cyrus and 20-month-old twins Elliston and Evans.
Next stop: Beach
He said more books are likely to be published.
"Our four-year-old is asking when his book is coming out," he said.
"I started very basic with a book called Silas Goes To The Beach. One of the biggest lessons I learned about faith was sitting there at night with my dad on the beach. , the waves and the sea, and the image of God's love through the waves.
For more information on "Eli Goes To Church" or to purchase it, please contact Knipple by emailing knips@sfcusa.org.
.