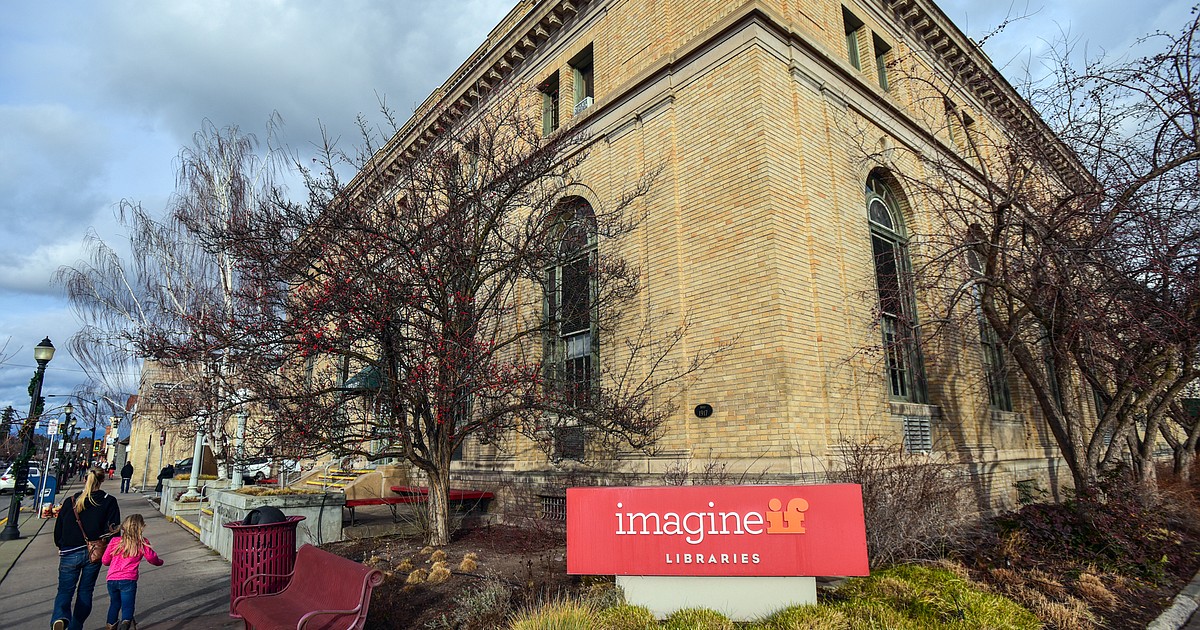 Two ImagineIF Libraries staff members have resigned, and a third will do so after an incident earlier this month when a book full of bullet holes was left at a Kalispell book drop.
ImagineIF Libraries Director Ashley Cummins said many librarians were insecure and concerned about their safety after the incident, which was seen as a potential threat to the library at the time.
"I'm just trying to foster the positive work and positive interactions that we're doing. The staff look forward to the future and we're still doing very well and we're doing things to improve." It only encourages work, Cummins told the library board of trustees at their regular meeting on Thursday.
Kalispell Police investigated the incident and determined that it was an isolated incident and that the book was mistakenly donated after being used for shooting practice. There were no controversial titles among the bullet holed books, but the library building was closed for the day.
Cummins said the library had planned to install security cameras throughout the building, but after the incident, the process of installing one of the cameras was sped up by the time the book was dropped. He has completed a safety assessment conducted by the Head County Sheriff's Office and will receive monthly safety training for the foreseeable future.
Cummins said safety training is mandatory for all entities in the county because of "several incidents" across the county, not just the library due to the book fall accident.
Mr. Cummins raises further concerns, with library staff expressing concerns over the large-scale public participation in monthly library board meetings held in the basement of the Kalispell branch, which is often controversial and separate I requested a place for the meeting.
She said post-meeting back and forth can be a distraction for staff trying to do their job, and in general, recent news stories and book-dropping incidents have made staff uncomfortable. Cummins said staff love it if they can find it.
"I tend to look at it. I think it helps in a lot of situations," Cummins said, noting that at least one board member has expressed an interest in holding the meeting offsite. did. "And I don't really see the downside of it."
Board Chair Doug Adams expressed concern about consistency when the Board moves between spaces each month, but the Trustees are open to the idea of ​​holding meetings elsewhere as long as they are consistent. was open to
Cummins plans to report the option to its board next month. The September board meeting will continue to be held at his Kalispell chapter.
During public comment, several candidates for public trustee seats on the board took time to offer their opinions on a number of library-related topics. When former board member Marsha Sulz resigned in June, 13 candidates applied for the open positions.
Trustee applicant Valerie McGarvey expressed concern about the book-dropping incident and related it to the language the board uses when discussing challenging books like the LGBTQ autobiography Gender Queer. rice field. The book started a debate about what materials should be allowed on library shelves, with some recent public commentators saying it promotes pedophilia. He said words like "child pornography", "pedophilia" and "grooming" were directed at people who did not agree to the removal of the book.
"These words have been repeated in public comments that have not been challenged by this Commission. and placed at the feet of people like me… As a faithful Christian who has served Jesus Christ for 40 years, I have chosen to defend my freedom to read in this community, so these accusations are against me. was placed at the feet of
Next, trustee applicant Abby Moscatel said she is a First Amendment defender, but disagrees that "genderqueer" should be in the library.
"I am a big supporter of the First Amendment to the U.S. Constitution, but I also think we need to make sure that the books our children have readily available are age-appropriate. book has a big problem. When you flip through them, in my opinion, they're pornographic in nature, and you can tell by looking at them," Moscatel said.
Another applicant, Diane Taylor-Mahnke, appreciates that others care about the material her child reads, but what is appropriate for her child, not the board. It is the parent's duty to determine whether
"If you look back at history, people who ban books and keep people away never come out as good guys. They're always bad guys and I hope you choose to be good." said Taylor-Mahnke.
Moscatel replied, "I have absolutely no intention of banning books."
"If something is pornographic or sexual in nature, it doesn't have to be in the children's section…it has to be in the adult section," Moscatel said.
"Gender Queer" is an autobiography and is not in the children's section of the library.
The Board plans to interview applicants for trusteeship on Tuesday, September 6. The next regular meeting will be held at the Kalispell chapter on September 22nd at 9:00 am.